Books
Legends of Aeo Fantasy Series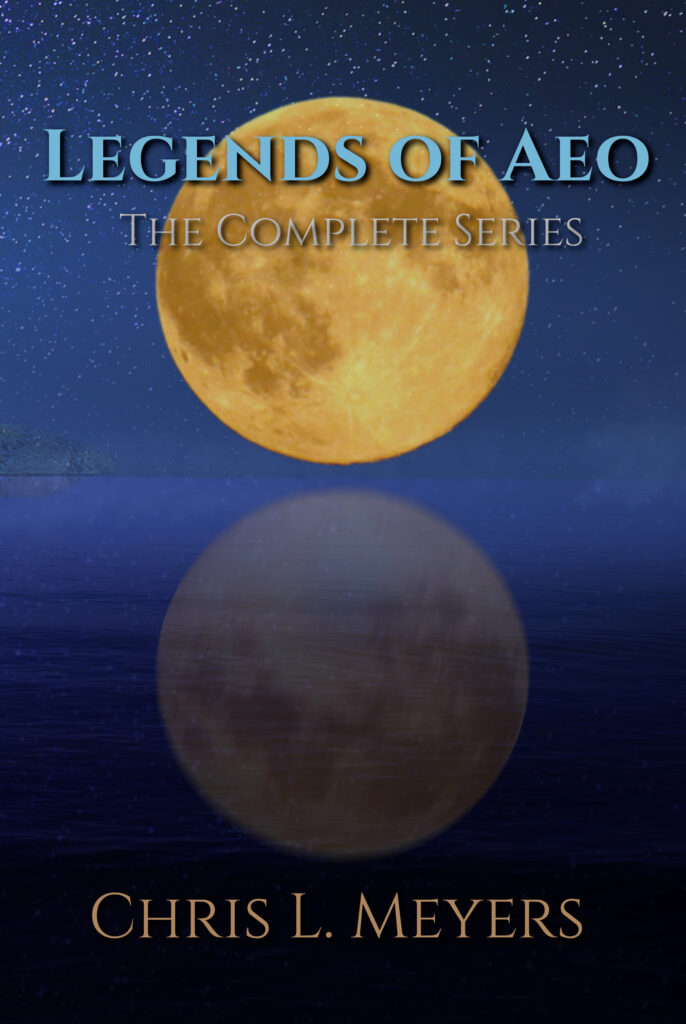 Stranded on an uncharted island, one man's connection to an ancient mystery could be humanity's undoing.
Now you can buy this 4-book fantasy series in a single volume. It costs less than buying them all individually. Available only on Amazon as a paperback, e-book or on Kindle Unlimited.
Check it out here: https://www.amazon.com/Legends-Aeo-Complete-Chris-Meyers-ebook/dp/B08VGZNWZX
If you prefer a vendor other than Amazon, you can purchase the entire series as separate books from the under each book below.
The Bahawre Legend
Sometimes legends are true. Sometimes they become personal.
Boman's life just got complicated. After fifty years of loyal service, the aging prime minister is suspected of conspiring against the new king.
Unfortunately, his attempt to clear his name strands him on an uncharted island in the Forbidden Zone. Forbidden because nobody has ever ventured in and returned.
Adding to the mystery is what the natives call their island: Bahawre. The same name as the ship that was lost hundreds of years earlier, resulting in the establishment of the Forbidden Zone.
To make matters worse, something strange is happening to him. The island is slowly taking hold, and he can't shake a sense of belonging. Perhaps the reason people never leave has nothing to do with the sea serpents.
Can his friends find him? If they do, will he still want to be rescued?
The Bahawre Covenant
Covenants are precarious. For every gain, there is a concession.
Book 2 in the Legends of Aeo fantasy series continues the story that started in The Bahawre Legend.
A change in power is merely a reminder to others that power can be changed. Will Geoffrey keep his throne? With one assassination attempt thwarted, his path forward appears dangerous.
Eyric's nightmares have returned. Will they affect the most important decision of her life? After watching new people react to the island, she realizes her home is even more mysterious than she believed. How much more mystery will accompany the covenant?
Boman's life has been flipped on its head and the island is sinking its claws into him. Will he find a way home or start a new life with the Bahawre heir?
The Bahawre Revelation
"Humans don't taste good or digest pleasantly." – Putlag
The third book in the Legends of Aeo fantasy series brings some dramatic twists.
War is coming and Putlag's worst fear may become reality. And the dragon knows more about Boman's declining health than he is telling.
Fend's mission to discover the secret behind Regent Grendic's rise to power is in jeopardy. What is Grendic after? And is there still time to stop him?
As Zille experiences more upheaval, can Geoffrey save his family? Can Emma turn tragedy into purpose?
The Bahawre Secret
As several countries converge on Bahawre, the mysterious dragon's quest is revealed. Can Putlag avoid his doom? Who will save Bahawre if he cannot?
In Zille, the assassination attempts continue. With the king away on a mission, the traitors are emboldened by his absence. Can Emma find the conspirators before she becomes their victim?
Non-Fiction Books
Distraction-Free Writing
Currently unavailable
If life keeps pulling you away from your writing, try this non-formulaic, practical approach to keeping on task. No three-step plan. No marketing hogwash. Just ideas to help you create your own plan. This book will help you recognize your distractions and set appropriate boundaries to deal with them. Reclaim your writing time and finish your WIP.